Wednesday, October 26th, 2011 at 6:21 am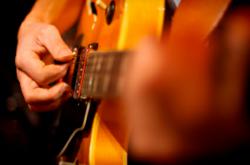 Los Angeles, CA (PRWEB) September 09, 2011
HillTop Records officially closed its First Annual Online Music Festival for Songwriters to new songs on August 31, 2011 and announced its prize winners on Labor Day. Eight songwriters will be receiving cash prizes for their new music, and one?Chris Blackmore, whose song ?As My New Life Begins? took home The HillTop Award?will have his award-winning song professionally arranged and recorded by HillTop. The first festival proved to be a major success, and a second one is already being planned for next summer.
Up-and-coming songwriters can enter to win at HillTop Record?s next Online Music Festival, in the hopes of following in the footsteps of this year?s big winners. Chris Blackmore actually won two prizes for ?As My New Life Begins?: The HillTop Award and The People?s Choice Award, worth $ 500. His song won the second award for collecting the most ?like? votes from listeners over the course of the entire festival. Joseph A. Data?s song ?All the King?s Horses? won $ 250 for being the most liked song in June, and Steve Euto-Mullis won a similar prize for ?The Master of the Sky? for the month of July. These songwriters took full advantage of the networking and publicity opportunities that the festival provided by linking their personal websites, Twitter and Facebook accounts to their competing songs?and it paid off.
Another top music prize went to G. Milton Luttrell, whose song ?Hilltop Rock? won the Best of Genre award in the Rock category. ?Full Moon? by Chuong Duong and Hai Pham took the top prize in the Pop category, ?I Give It Back To You? by Marx Clark won for Gospel, and ?Mystical Lady? by Perle Oliver was the winner of the Urban/R&B category. The Best of Country award went to Euto-Mullis? ?The Master of the Sky,? which also took home the Festival Blue Ribbon and the Grand Prize of $ 1000 for the Best Song of the Festival.
In light of the First Annual Online Music Festival for Songwriters? recent success, HillTop Records is planning to hold a second contest next year. Like the first, it will be free to enter. Changes and improvements will be made to make the second festival even better than the first. Suggestions from previous attendees and songwriters are welcome.
HillTop Records is constantly on the lookout for new avenues for songwriters. The company maintains a strong online presence, and songwriters under contract often benefit from having a Unique Songwriter Page that can be used for promotional purposes. Euto-Mullis called HillTop ?the label that records America?s songs and the company that truly is all about the songwriter.?
To find out more about HillTop Records? services, including how to win cash prizes at the next Music Festival, visit http://www.hilltoprecords.com. You can also follow on Twitter @HillTop Records, or catch up on the latest music industry news on HillTop Records? official blog.
###
Find More Blogging For Cash Press Releases