Saturday, December 10th, 2011 at 1:19 pm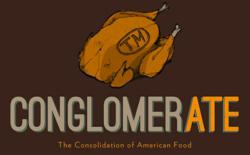 Denver, CO (PRWEB UK) 24 November 2011
Frugal Dad launched its most recent infographic, entitled ?Congolmer-ATE: The Consolidation of American Food,? on Wednesday, November 23nd. The infographic takes a close look at the production of American food, focusing mostly on the size of today's food manufacturers and many of these companies' manufacturing practices.
Jason White, founder of Frugal Dad, is excited about the latest infographic. ?We've put together a great product on this one,? White said. ?I've always been skeptical of the food industry both in American and throughout the world, and this infographic should make everyone a skeptic.?
Particularly shocking, White said, was the infographic's focus on antibiotic use in livestock. ?Livestock are pumped full of 29 million pounds of antibiotics each year, and it's getting in your meat and in your water supply,? White said. He urged readers to rethink their meat consumption and consider organic or natural alternatives.
White recently launched a redesign of Frugaldad.com, one of the web's oldest and most respected personal finance blogs. His latest focus on infographics is another way he intends to help his readers make more informed purchasing decisions. Along with infographics, White has added a more comprehensive coupon and deals directory (http://frugaldad.com/coupons) to his redesigned site. He hopes that the new features and content will convince readers to make good financial decisions, save money, and stay out of debt.
Look at the full graphic here:

http://frugaldad.com/2011/11/23/consolidation-of-american-food-infographic/
About Frugaldad.com

Jason White founded frugaldad.com in 2007 after spending years as a representative for various credit card and banking companies. He watched as his customers made poor financial decisions that buried them in debt, and he decided to start a personal finance blog to help average people make prudent financial choices. Since then, frugaldad.com has helped thousands of readers from all over the world with practical advice on saving money and living frugal lifestyles. White now works in software development and lives in Denver, CO.
For more information, please visit http://www.frugaldad.com, or contact Jason white at jason(at)frugaldad(dot)com.
# # #