Monday, August 29th, 2011 at 3:18 pm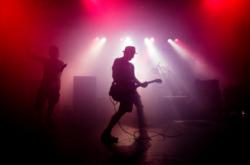 Los Angeles, CA (PRWEB) August 26, 2011
After nearly two decades of producing and promoting songs by America?s up-and-coming songwriters, HillTop Records has successfully entered the music festival circuit. Two months into its First Annual Online Music Festival for Songwriters, the Hollywood-based record company has already announced?and awarded prize money to?two winners.
Joseph A. Data received The People?s Choice Award from HillTop Records for the month of June, for his song ?All the King?s Horses.? He won $ 250 and a certificate that he has proudly displayed in his studio. In a letter to HillTop Records, Data called the award ?one of the greatest accomplishments of [his] musical career.? The same award went to Steve Euto-Mullis for his song ?The Master of the Sky? for the month of July. Both of these songs won by accumulating the most ?like? votes from festival-goers during their respective months.
All up-and-coming songwriters who own the copyright to their original songs (words and music) may upload them on MP3 files directly to the Music Festival?s official website free of charge. Once uploaded, these songs are instantly eligible to win cash prizes and recognition. Songwriters are encouraged to advertise their participation in the competition by linking their Festival songs to social networking sites. At the same time, fans and music industry professionals can browse songs by genre for free to discover new music and vote for their favorites.
It is still not too late to enter to win the contest. Top music prizes, including The People?s Choice Award worth $ 500, are still up for grabs. After the Festival ends on August 31, a panel of award-winning judges will determine the winners of The Best of Genre Award (in the categories of Rock, Pop, Country, Gospel, and Urban/R&B) each worth $ 250, The Grand Prize Award of $ 1000, and The HillTop Award, whose winner will receive a professionally produced CD (worth approximately $ 2,400) arranged and recorded by HillTop Records? musicians. These winners will be announced on Labor Day.
HillTop Records is constantly on the lookout for new avenues for songwriters. The company maintains a strong online presence, and songwriters under contract often benefit from having a Unique Songwriter Page that can be used for promotional purposes. Euto-Mullis called HillTop ?the label that records America?s songs and the company that truly is all about the songwriter.?
To find out more about HillTop Records? services, including how to win cash prizes, visit http://www.hilltoprecords.com or http://www.hilltoprecordsmusicfestival.com. You can also follow on Twitter @HillTopRecords, or catch up on the latest music industry news on HillTop Records? official blog.
###